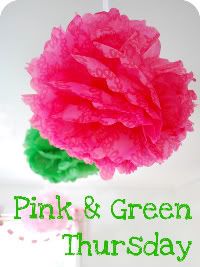 Happy Pink & Green Thursday!
Many thanks to everyone who has been linking up for the last few weeks! I know it's summer and everyone's schedules are so hectic, but I appreciate everyone's beautiful posts and taking the time to join us. As a reminder anyone is welcome to play along, just grab the button from my sidebar, and link your blog post by showing us your favorite pinks and greens! Visit the blog hop for even more fabulous inspiration too :)
Lately I have been on a huge neon kick...there is something about bright colors that just radiates an extra special energy! Especially fun for date nights but also an easy way to throw a little flair into your work ensembles, and even around the house, the right touch of neon can add the right splash of color in the most unexpected places! I have a few favorites to share with you below, hope you enjoy...
A surprise neon yellow-green kitchen door
So cute in their bright neon denim and oversized tops paired with colorful heels
Beautiful brights from Jil Sander
Hot pink straw in a large iced coffee on a perfect summer day, yummy!
Stealing a kiss next to those precious hot pink chairs, what's not to love? :)
Cheers to all things BRIGHT and beautiful!
See you on the blog hop!
xoxo