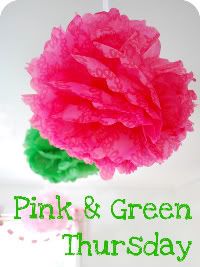 Hello dears, and Happy Pink & Green Thursday!
A million thank you's for the lovely birthday messages this week. Although I was in Southern Florida for business meetings, it was still a beautiful day and we were able to squeeze in a little fun as well. (Even managed to do a little power shopping at the Shops at Bal Harbour yesterday!) I am so happy to be home with my two sweeties now and look forward to celebrating birthday week through the weekend.
Perhaps it was all that lovely salty ocean air and the mellow crashing of the waves, but being in all that gorgeous Florida sunshine made me even more ready for Spring and Summer's arrival. There is nothing better than throwing on a cute dress and a pair of sandals with a few accessories, minimal makeup and heading out for a summer evening on the town with great friends.
Elizabeth McKay's
Spring collection is all of that and then some...simple silhouettes, beautiful fabrics and delicate details, there are so many classic styles that would stand out at any event and plenty that can be dressed up for day or night wear. Here are a few of my favorites below - enjoy!
Do you love this collection as much as I do?
What are you most looking forward to this Spring/Summer? Please share!
Wishing you a Happy Pink & Green Thursday!
Be sure to link up below and visit the blog hop for some amazing and colorful inspriation!
xoxo