Welcome friends to another Pink & Green Thursday!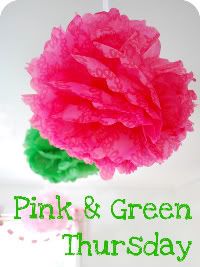 As always thank you for joining us each week and linking up below. Let's play together! Show us your pink and green favorites this week, and visit the blog hop below to meet fellow pink and green lovers and to find new friends!
Here are my Pink & Green pretty little things for you this week, ENJOY!
***
Short and sweet this week; We're in New York for my baby sister's graduation this morning from the Culinary Institute of America. Can't believe my precious little sister is all grown up!
Being almost ten years older than she is, I am extremely fortunate that her and I have such a close relationship. She is truly the most wonderful sister in the world, and we couldn't be prouder of her amazing accomplishments!
Congrats baby sis! xox
***
Did anyone have luck at the Lilly End of Summer Sale this week? Although there were some technical difficulties, I thought the selections and prices were great! Here are a few of my new pretties...
The Betsey Dress is one of my all time faves, the cut is always so flattering. I love the lace detail on this one, so simple and chic.
I picked up a few additional goodies (Mainsail Fleece and a couple Murfee scarves) and ordered my free pair of Skinny McKim's in Daiquiri Pink. Thanks for the fun sale, Lilly! xx
***
Happy Pink & Green Thursday, do something fun that makes you smile today!
Can't wait to catch up with everyone over the weekend, you are all so wonderful xoxo